Okay - rocked out the Chest & Back Kettlebell workout at lunch. Definitely enjoyed it. I did notice that its easier to move the bell this week than it was last week, so if this trend keeps up I'll be bringing in a heavier kettlebell for my workouts next week. YAY for improving weights!
When I was done with this workout - I snapped a pic, just to see. My hair is a wreck and I'm all sweaty - but I tried to focus on the positives I saw today. My arm wasn't fully flexed in this pic, but even partially relaxed, I think I'm getting my definition back. Makes me want to take another pic with my arm fully flexed to see what it looks like. I don't have a bulge on my back where my bra is, my back is looking smooth. My waist/tummy looks even and not pudgy. My butt is definitely looking more lifted - squats are helping that for sure.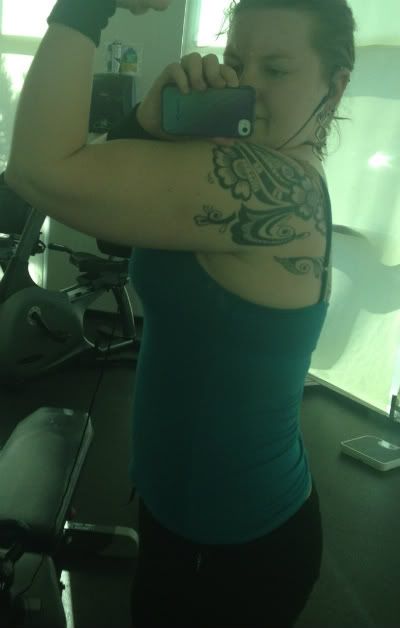 Its not much - but its a little confidence booster on this crazy Monday.