So yesterday was a good day! Hit my calorie goals, had a killer workout & finally got a decent night's sleep last night. Now I just need to do that every day (mainly the sleep part) and I'll be good!
Yesterday's Warm Up:
Pyramid Medicine Ball Jacks 14 lbs - 25 to 1
25 Jumping Jacks with OHP of 14lb medicine ball, then 24 reps, then 23, then 22, etc all the way down to 1
Bodyweight exercises done in between sets for 60 seconds: Squats, Burpees, Sit-Ups, Push Ups, Jumping Squats, Mountain Climbers (standing due to knee tweaking)
TOTAL: 325 Jumping Jacks with 14lb OHPWorkout:
30 mins of Kickboxing with calisthenic drills in between rounds
Abs:
10 mins followed by Cool Down
Note: The sleep listed here is not from last night, but the night before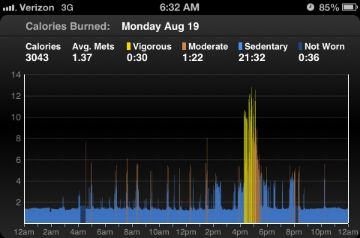 Otherwise things are going well. Today is boxing with one of our fav trainers and trying to keep disciplined today at work. They're feeding everyone from a local BBQ place & I was a good girl and packed my own lunch instead.
Have a great day!