Okay, so I realized its been about 2 months since I've been in here....its about time I post a darn update. Life has been crazy busy. I'm still working full time at the day job, teaching 7 Zumba classes a week, being a wife (which sometimes is a full time job itself) and trying to maintain sanity.....oh, did I also mention that the hubby and I are training for a half marathon now too??? Yeah....so life is busy.
So here's a rundown of what's been going on since the last time I posted. First quarter of the after school program just ended - classes are going well. Not having my Adult Zumba class on Wednesdays is really helping me out this year. That was brutal last year and I didn't want to do it again.
This past weekend was the Duke City Marathon event and I signed up for the 20K walk (about 12.5 miles) with a friend of mine. The past few weeks I've been training to get up to distance for that one. 4 weeks ago, we went out for 8 miles of a run/walk. 2 weeks ago we went out for a full 13.1 miles (first time EVER I've gone that distance!) I was SO proud of myself!!! Its nice to know that I'm already capable of going the 13.1 distance and that over the next year I just need to work on speed! Woot!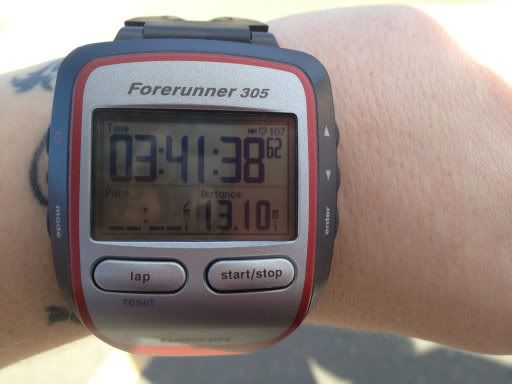 YAY! So after that awesomeness, I still had the 20K walk to prepare for, which was yesterday. I had a blast, but I've decided that I won't EVER do a walk that long again. I'm a runner....I was bored as HELL only being able to walk the whole time. I actually started dancing to my IPOD while I was walking just to liven things up a bit - but then I got yelled at by the race coordinators because "dancing wasn't allowed".....next time....I sign up for a run! But anyways, it was a fun time. Here's the official results from the Duke City Site....I'm definitely pleased!
THIRD in my age group, average pace 16:25 min mile (which for a walk would be about 3.3-3.5 MPH on a treadmill consistently for over 3 hours), 3:23:51 total chip time from start to finish (which coincided with my Garmin Forerunner, so I'm pleased)
So....today I'm sore as hell. Have some BEAUTIFUL blisters on my feet and my hips are sore, so I'm waddling like an old lady. But overall, I'm in a great mood! Wahoo! The only tricky part about today....I've got a Zumba class tonight at 530....hopefully I'm able to get loose by then! I picked up a Gellie roller through Active.com so I think I might end up attacking my legs like a rolling pin before class today to see if that helps!
I think that's about it for now. I'm taking a few days off work this week so I'm looking forward to some well needed downtime with the hubby! Hope you're all having a great day!
So since it was run/walk and official race training, I'm adding my mileage from the past few weeks into my yearly review, even if it wasn't 100% running
Miles Ran Towards A Better Me in 2012: 57.94 Miles
Total Amount of Joy I've Found From My Running Shoes: Priceless!!!!