Hey everyone!
I know that I've been a little scarce recently, but life has been super busy. Finals are over at school & I have 2 weeks before fall semester starts back up again. So far, half of my grades have been posted and I have a B with 2 A's. I'm hoping the other 3 classes will post later today so I can see how I did.
Last week, I started hazarding bodyweight squats with my knee & I did well. I've been able to knock those out pretty regularly - but I have to keep the movement really slow & controlled. Lunges are still a nightmare & impossible to do, but I think the ability to to squats is definitely sign of improvement!
This past weekend, the hubby & I went out to Phoenix so my stepson could hang out with his family for a few days before school started. We had a great time - lots of shopping, eating WAY too much food, enjoying some chill nights at a local Scottish bar & avoiding the heat (it was around 110 this past weekend!) Even in the crazy heat, we still managed to get a lot of walking done AND we found a gym location near our hotel - so we were able to get a kickboxing workout done on Friday night! It was awesome!
We drove back all day on Sunday & yesterday I was off work. I have a buddy who is an amazing tattoo artist & he wanted to give me a new piece as a birthday present! I decided to get a piece that I've been wanting for a while that means a lot to me and it was inspired by my favorite book series.
Here's some pics I took yesterday during the happy tattoo process!
Tattoo started :-)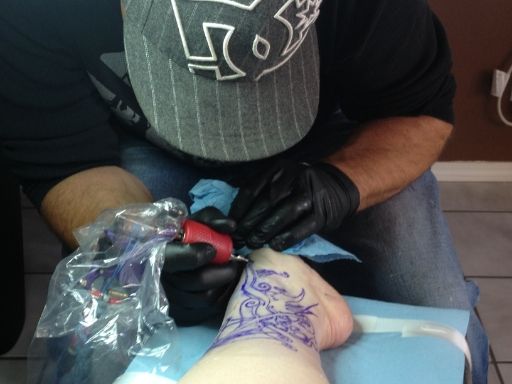 Progress Pic #1: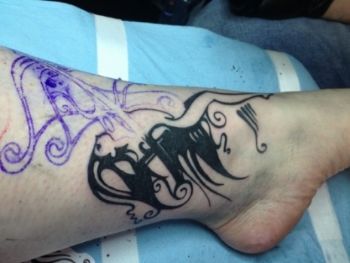 Final piece:
I absolutely love it & think its a super pretty tattoo! Its exactly what I wanted! I posted it on the author's FB page and I guess other people like it too - its had over 3400 likes, 200+ comments (all positive!) and 100+ shares. I loved the piece regardless, but its nice to know that others appreciate it as well!
So - this week is going to be spent getting eating back on track from the food-fest this past weekend, healing from fabulous new tattoos and continuing to work on my BW exercises. Next week I'd like to have progress pics up and I'd like to start my lifting program. I don't think I'll be able to add weight to the squats or the lunges just yet, but I will do those BW until I'm comfortable getting into the full ROM of the movement.
Anyways, I think that's about it for me! Hope you all are doing well & I'll catch up with you all soon!