So today is hubby's 30th birthday! Wahoo!!! I really hope he has an amazing day!! We are both working today - but we have a fabulous dinner date planned for tonight and both took tomorrow off work, so we get a 3 day weekend together!! Yippee!!!
Since tonight will likely be a night of indulgences (followed by a crazy weekend of hopefully okay nutrition) - I decided to take measurements and weight this morning. I got proof that some of the weight I put on over the holidays was actually muscle!!! I'm super proud of myself actually!!! 10 lbs of unexpected muscle gains over the holidays is a great accomplishment!!
So how did I do on the weigh in??? I'm officially down 6.8lbs since my first weigh in at the beginning of January. BUT the huge news is that I'm down a total of 12 inches!! I'm a whole FOOT smaller in 19 days!!! Wahoo!!!
This is also a testament to my current eating plan, even though I'm not seeing a lot of scale movement - I'm dropping inches like crazy, which means I'm losing fat and doing something right!! Go me!!! I guess that just reinforces the importance of tracking inches lost as well as scale movement.
Here's a few pics I snapped this morning (the pink top) - I put them next to pics I took only 9 days ago (the brown top) - I'm definitely thinking my pudge lines are going away and I'm looking smaller again! Wahoo! These are the same pair of jeans and it definitely looks like my little muffin is gone again!!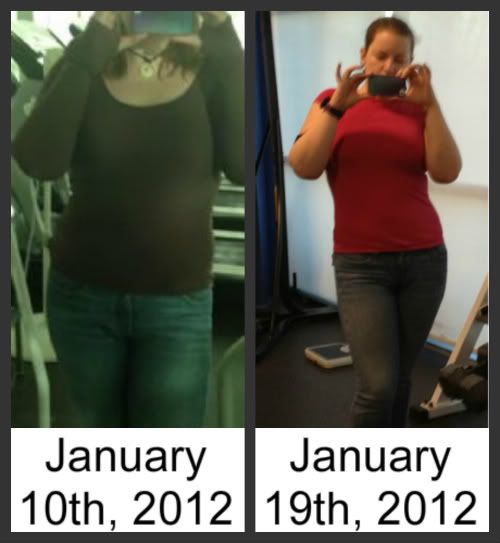 And just for fun - here's another