Alrighty peeps - I know I'm a little delayed in posting this, but here's the 2 week results of Operation Bikini. I really wasn't expecting much - I ate like hell for half of week 2, I changed my nutrition part way through the week, got tattooed so I'm retaining water, slept terribly - all of these things are not really a good equation for weight loss. Weight came in at 173.6lbs, so am down around 3 pounds so far. Measurements are oddly exactly the same from Day One - however, I really think I am seeing progress in my pictures (below). I know my back is swollen due to the new tattoo - and it will continue to be swollen until its fully healed - which is why I think my measurements are still the same around my tummy.
Visually, I think that my tummy is trimming up - but the thing I noticed the MOST was the definition changes in my legs!!! These photos are NOT flexed and I'm seeing HUGE definition changes in regular midday sunlight that wasn't there a few weeks ago!
LOOK at my quads & calves!! Holy cow!!!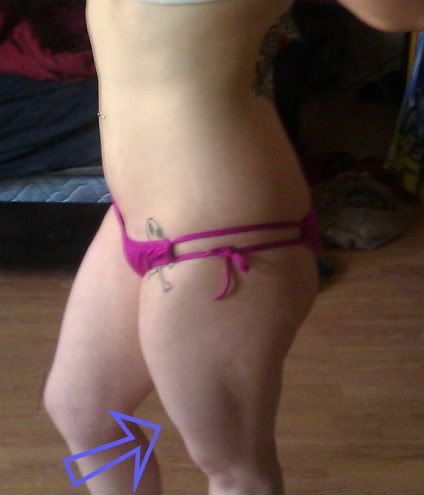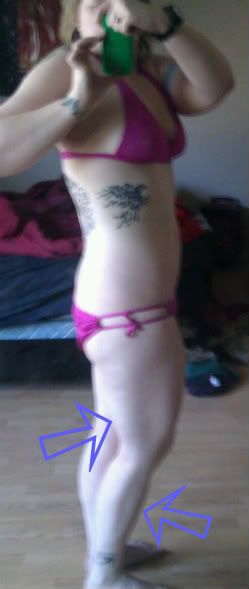 So here's my day 1 pics next to my day 15 pics - as I stated earlier, I'm noticing my tummy is trimming up even though my measurements aren't changing much right now. Maybe I'm recomping and swapping muscle for fat??? Hmmm.....what do you guys think??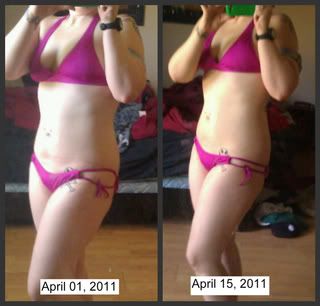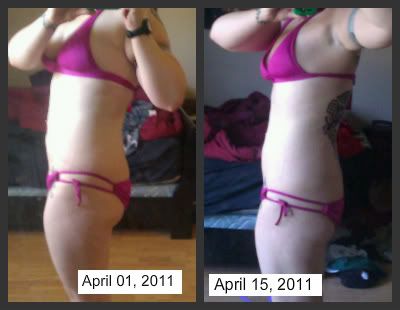 This definitely makes me curious to see what happens in the next 2 weeks!! This weekend was a little more indulgent than I wanted. It was my first actual day off (no work, no classes, NOTHING!) since February! So the hubby went out to a local casino and enjoyed a fabulous night out. We went to a steakhouse for dinner, diner for breakfast and Irish pub for lunch today. Booze was had (I have a hard time refusing Killian's & Hard Cider on tap! haha!), desserts were had and exercise was lower than usual - but isn't that what the first legitimate rest day in 3 months should be???? In all honesty, I don't feel bad about ANYTHING I ate this weekend (and trust me, I ate a lot! haha!).
So total for the month of April, I am down 3 pounds and have 813 fitness minutes so far for the month - so that's an average of 48 mins a day so far (which is exceeding my original goal of 30 mins a day). I'm noticing new muscle definition and coming to terms with various nutritional struggles that I've been faced with. Operation Bikini might not be EXACTLY what I planned - but I think its turning into EXACTLY what I needed.