Okay, so I got out of work early today and was able to sneak in some progress pics. I also gave myself a killer workout by doing the Insanity Fast & Furious workout - holy gods....I can't believe how hard that workout is!!! EEK!!! I burned over 200 calories in 20 mins and now have a goal to get better at that workout!!! Its a doozie!!!
Alrighty - so here's my "Before" pics: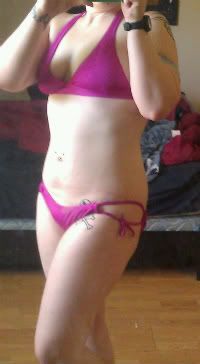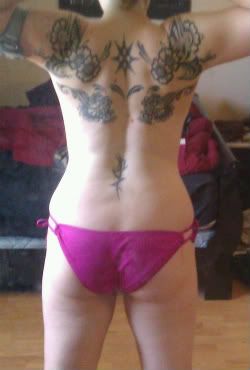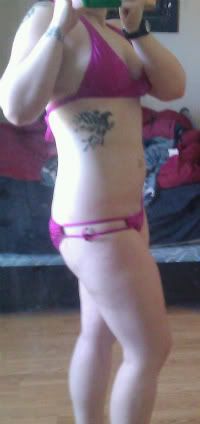 I love love LOVE the definition I am getting on my back!!! Yippee!!! Tummy looks okay, but still have some work to do! I got out of work early today and had a chance to snap some progress pics after my workout as I didn't get a chance to take them earlier today. I am a little squishier than I like to be - but 2 weeks of eating junk will do that.
Here's my measurements from this morning - they're up a little bit from the last measurement (end of Vegan investigation) due to water retention, etc:
Weight: 176.4
Height: 5'7"
Body Fat Percentage: 26.54%
Thigh (upper): 25 inches
Hips: 40 inches
At bellybutton: 35 inches
Waist: 32.5 inches
Chest: 34 inches
Bust: 37.5 inches
Upper arms: 13 inches
Clothing Size: Pants - 6, Shirts - small to medium
Now - Time to sneak in a nap before the 2nd half of my day starts! yippee!