UGH! So I had all the best intentions of eating well at Friday's yesterday. I researched their menu and had about 4 different options for food that would have worked for me.
Little did I know that TGI Friday's rotates their menu regularly AND it is different from the website based on region. SO - every one of my healthy choices wasn't on the menu....anywhere....
I was SO frustrated! The only salad options available were 900+ calorie salads, and it was near impossible to find something around my 400 calorie goal (that wasn't just a plate of broccoli). So, I decided to just say "F it!" and stopped stressing about it. We don't go to Friday's regularly anyways (and this just reinforces why I will probably NOT go back any time soon). There was a group of 5 of us - so we split potstickers, shrimp cocktail & potato skins (I only ate 1 of those) as an appetizer, then I had the Jack Daniels Chicken & Shrimp with mashed potatoes & sweet potato fries. It wasn't the best choice - but it was certainly better than the cream sauce pasta dishes I was eyeballing! Then, we got dessert (since it came with our meals - we did the 2 for $20 thing) so we all split a slice of Red Velvet Cake & a slice of Chocolate Peanut Butter Pie. We got the kids each a "Cup of Dirt" - which was probably the yummiest dessert out of all 3 of them that we ordered! Chocolate pudding, cookie crumbs & gummy worms!
The 4 year old daughter of a friend ended up looking like this when she was finished with hers! haha! She is just super cute!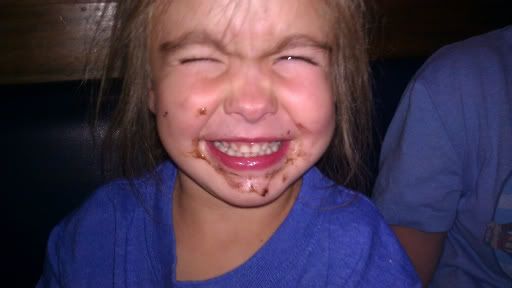 After that, we went and walked around the mall a little bit. We found my friend's daughter some super cute Converse shoes - look! They are little pink piggies!!! Tail & all!!!!
Once the mall closed at 6 - we all went for a small & light dinner at Buffalo Wild Wings. We all split a few orders of nachos & hot wings and just hung out on the patio. It was really nice to just kick back and relax for a little bit.
Today my weight is up about 3lbs of water weight from where it was yesterday morning - but that's to be expected after all the sodium I ate yesterday! Nutrition is back on track and I'm pushing fluids again today as well to get rid of the water weight! I got bored today and snapped some photos - so here they are :-D
Even though my weight is up - I'm still feeling leaner than I was last week - so I see this as progress!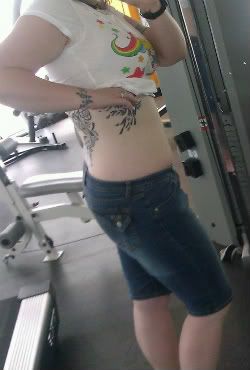 YES - I am rockin' the Rainbow Brite T-Shirt! haha!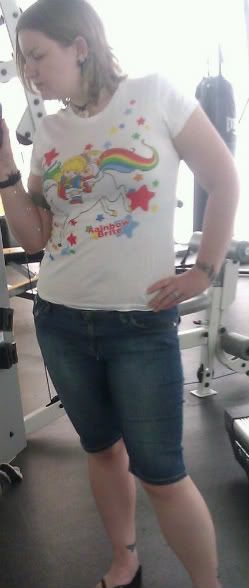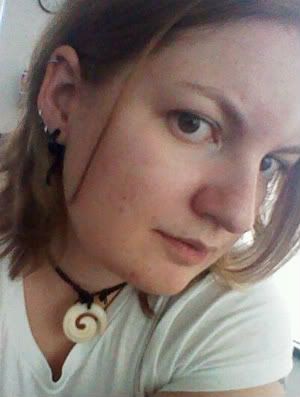 Tonight's workout is Zumba! Looking forward to another awesome class! I'm hoping it goes well!! I'm going to wear my super cute new Zumba clothes - so that is exciting as well! haha! I think that's about it for me!! I'll update later (or tomorrow) with more foodz porn & workout updates!