So last night's dinner out was fabulous! We had a great time with my mommy and I definitely ate more than expected (but still not over cal burn for the day). I enjoyed small portions of yummy pasta & seafood salads, marinated mushrooms, steamed veggies, Mozzerella cheese, a few pieces of California Roll Sushi, grilled pineapple, some small bread rolls along with all the fabulous Brazilian meats (we had small portions of fish, chicken, sirloin, pork & sausage). Also for dessert - mommy and I split a Passion Fruit Mousse which was super amazing & perfect for summer! Granted, I ate more than I wanted, but it was worth it and we had a blast! Today is already back 100% to nutrition and I'm confident I'll drop this water weight off in the next 2 days (just like I always do!)
I even had the nerve to take some pics of myself in the gym this morning - and I'm glad I did - I think I look better already (especially considering this is "bloated" pics!). I'm hoping for more continued progress for my weigh in on Sunday morning! I must say - I am happy with my "natural" (i.e. NOT flexing) definition on my arms - especially between my delts/biceps & on my forearms in the full body pic! I also think I've got some nice curves from my waist to my hips in the closer tummy shots (both covered and not) - definitely not as squishy as last week was!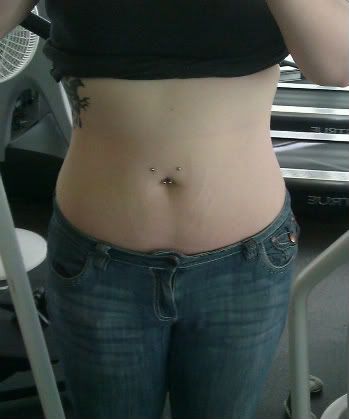 In other news - tonight is Zumba at Curves, which is always a blast! I love all the people there and its a killer workout! Since my Zumba class days are changing at Baila! in July, I'll have to change my running days in the next few weeks. Now they'll probably be Mondays, Wednesdays & one other day (probably Saturday) so that I don't have 2 running days back to back. Saturdays are the only day that I can Zumba in the morning and recover enough to get a run done in the afternoon - so this will probably be the plan at least for the next few weeks!
I have my Zumbatomic licensing class on Sunday which is going to be super awesome! I'm a junkie for learning new things, so this should be super fun!!!
I think that's about it for me! Happy Thursday everyone!