Alrighty peeps! Here's my "Day One" blog for my 10K training!! I am super stoked!!! In reference to a blog I posted a few weeks ago - this is my new "ROCK BOTTOM" - this is my starting point. It is my goal to be at goal weight within a few months and ready to ROCK this 10K in October!
Alrighty - so here it goes - the Good, the Bad and the Squishy:
The good - In the past 2 months, I think I've managed a slight recomp. My weight is up about 7lbs from the last official weigh in, but I'm only up about 3 inches all over - so some of this was unexpectedly muscle gain (which isn't a bad thing). I'm also noticing bigger burns on my BodyBugg, which is definitely explained by the difference in muscle/fat composition as well
The bad - I'm a numbers person - so the 7lb gain on the scale is driving me batty! I'm trying to get over this, but its definitely tricky. I've been 180lbs before and it was ALL fat - no muscle and I looked terrible - so this is a hard image to shake from my head
The squishy - I'm holding some water weight right now so I feel squishy - hopefully a good week on a solid nutrition program will get rid of the squish and my weight will balance out.
So here's my starting info and "Before" pics -
Starting Weight: 180.8lbs
Measurements taken 06/17/2011
Clothing Size -
Shirts: Small to Medium
Pants: 6-8
Neck: 13.5. inches
Shoulders: 40 inches
Bust: 38 inches
Chest (under bust): 33.5 inches
Waist: 33 inches
Belly Button: 36 inches
Hips: 41 inches
Right Thigh (Up/Mid): 25.5 inches/23.5 inches
Left Thigh (Up/Mid): 25.5 inches/23.5 inches
Calves (Right/Left): 16 inches/16 inches
Biceps (Right/Left): 13 inches/13 inches
Forearms (Right/Left): 11 inches/11 inches
Wrist: 6.75 inches
And here's the pics - some of which were taken by hubby post-Zumba class, so pardon the *fabulous* pony tail look, and some were taken earlier in the day with the camera on the self timer - and "NO" I didn't wear the "short shorts" to Zumba class - I am totally NOT confident enough for that! I just wanted something that would give me a decent pic of my legs & was snug on my hips to see definition - so I changed before pics were taken! haha!
Front: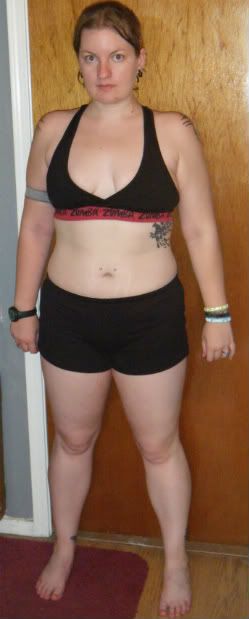 Side:
Back: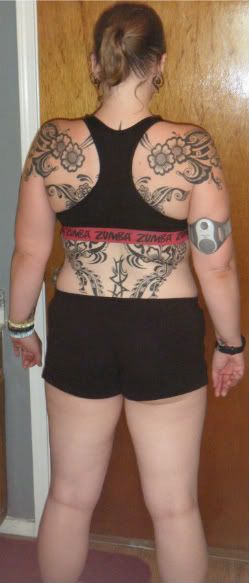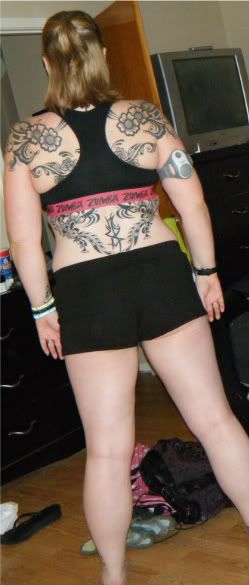 Overall I don't think the pics look too bad - I think I look strong and muscular. However, strong and muscular is the physique of a sprinter - not an endurance runner, so I've got some work to do!! OH - and I LOVE my new Zumba Sports Bra Top (this is my new "goal" top BTW)
So I think that's it. Workout 2 for training will be this afternoon after work and I'm really looking forward to it!! Can't wait to see how I continue to improve throughout these workouts! Woot! Weigh Ins will regularly be once a week - trying to figure out which day though. I'm toying with the idea of Sundays to keep me accountable during the weekends! Either way - its time to cut some weight!!! I might go to a bookstore after work - I found a book specifically designed for Vegan athletes that I might need to pick up. It might help get some variety in my diet (which I think is why I cheat so much - I get bored...)