So my month is over - I went 4 weeks without meat, dairy, eggs or any other animal product and I am so proud of myself! This was something that I didn't think I would be able to accomplish!
So now onto all the stuff you want to know - what happened in 4 weeks?? I lost weight, I lost inches, I slept fabulously, I had energy throughout all my workouts and I was rarely hungry (though some of this might have been due to a minor cold as well).
First of all - I want to share all the numbers before we get into anything else. Over 4 weeks, I spent around $230 in groceries - which averages to around $57 a week in veggies, rice, pastas, breads/bagels, teas, etc. I honestly don't think that's really a lot at all considering we weren't going out to eat very often! The majorioty of this money was spent in the first week and a half - just stocking up my house with vegan friendly foods - after that it was just supplemental grocery shopping to buy things I had run out of.
I worked out consistently 5 days a week for at least 1 hour each workout day - with a mixture of Zumba and kickboxing workouts. I averaged around 2300 calories burned each day according to my BodyBugg. I ate around 1400 calories a day and was rarely hungry due to the volume of food that I was eating on a consistent basis.
I noticed instant improvement in the way my body felt - any of my tummy and digestion issues went away almost overnight. Lots of people say that they experience other improvements in hair shine, complextion etc. I changed shampoo/conditioner halfway through this - so I can't say if there's any improvement there. I seem to still have the complexion of a 14 year old - so though there might have been a minor improvement there, I didn't notice much change.
Okay - So now onto the good stuff. Before I got my tattoo, my weight was hanging around 170lbs - which meant that I had dropped around 12 pounds throughout this whole adventure. After getting my tattoo, it shot up a little bit since my body is "healing" and my final weigh in was at 172.8lbs - which puts me at officially 9.2 pounds down. I really can't be upset about this - because I was rarely hungry, the weight loss almost seemed effortless! Considering that 2.5 of these pounds are water weight - and I probably am right around 170lbs - almost 12 pounds in 4 weeks is astounding!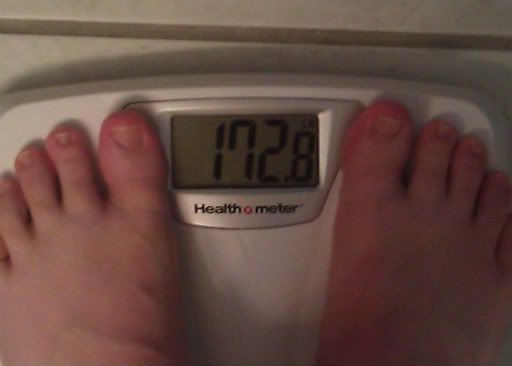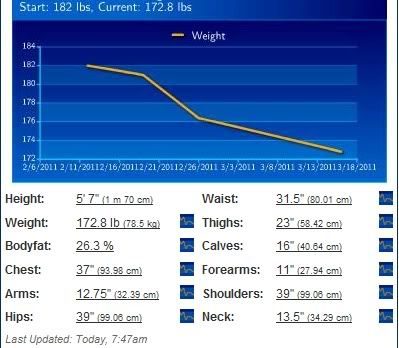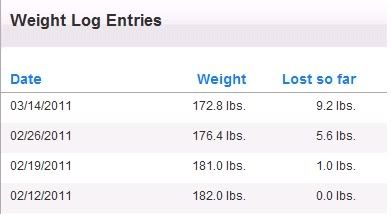 Now let's look at the other body metrics. After my month of Vegan, I am sitting right around 26.25% body fat, which is a loss of 1.12% from my initial measurements at 182lbs.
Here's the way my measurements break down - these are the same points of measurements that I use on my Personal Training Clients with the differences notated next to them:
Neck: 13.5 inches (same)
Shoulders: 39 inches (-1 inch)
Bust: 37 inches (-0.5 inches)
Chest: 32.5 inches (-1.5 inches)
Waist: 31.5 inches (-1.5 inches)
Belly Button: 33.5 inches (-2 inches)
Hips: 39 inches (-1.5 inches)
Butt: 41.5 inches (-1 inch)
Right Thigh (Up/Mid): 25 inches/23 inches (-0.5 loss on upper thigh)
Left Thigh (Up/Mid): 25 inches/23 inches (-0.5 upper thigh and 1 inch mid thigh)
Right/Left Calf: 16 inches/16 inches (same)
Right/Left Bicep: 12.75 inches/12.75 inches (loss of 0.25 inch from each arm)
Right/Left Forearm: 10.75/10.75 (loss of 0.25 off right and 0.5 off left)
Wrist: 6.75 (loss of 0.25 inches)
Total Measured Inches Lost: 12.5 inches - that's over a foot of me GONE! Holy cow!
Pant size is still in a comfortable size 6 - but my clothes are noticibly looser than they were before. I haven't been shopping recently, so who knows if I am in 4s or not - it just depends on the brand of clothes for me.
Alrighty - so here's my pictures put next to my "befores" - I really don't see much of a difference between the front ones, the back ones I'm more muscular than I was before and the biggest difference is my side pics - I don't think I look as thick as I did before...what do you think? I think I have a more hourglass figure now thanks to the huge drop in inches from my ribs down to my hips - definitely not a bad thing right before swimsuit season!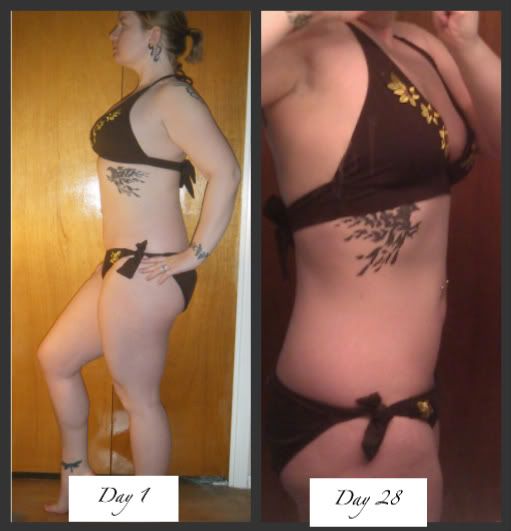 And also just for fun - here's some other pics I snapped yesterday morning: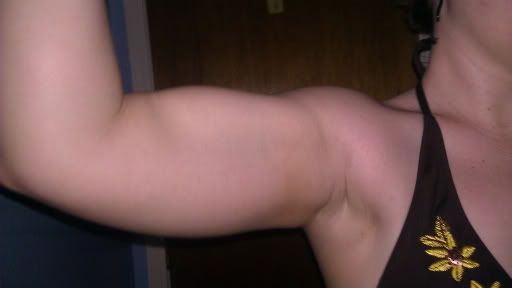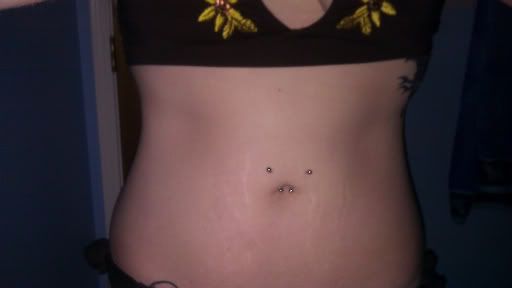 So now that the Vegan Investigation is over - the "Reintegration Project" begins. Yesterday I totally let myself eat whatever I wanted to eat, and I don't want to know how many calories it came to! haha! I ate (but didn't overeat) nachos, thin crust pizza, girl scout cookies, homemade mac & cheese, turkey burgers and two cadbury easter eggs among other things! I let myself indulge for a day and now the calorie count is back on track. Surprisingly, my tummy doesn't really feel off at all today.
My goals for the next few weeks are to hang around 1500 cals a day and see what that does to my weight loss now. I really enjoyed having this nutrition journal - and I will continue documenting my reintegration of new foods back into my diet. My shoulders are almost completely healed (they started peeling last night and should finish today) - WOW I love being a quick healer! Hopefully I can get back to my normal routine of things soon.