Alrighty - so my week of reintegration is complete. I allowed myself a week to eat freely - no worries about calorie count, etc. It was nice, but at the same time now I feel awful.
There were some days where I had minimal appetite, and others that I ate everything in sight. Hopefully all of my weird cravings for food are now satisfied and I can get back on track. I am up around 5 pounds in water weight and I feel a little bloated from when I weighed in at the end of my Vegan Investigation, and I should hopefully have that off within a few days.
So after my binge-fest, my tummy doesn't look too bad - a little squishier than usual, but definitely not what I was fearing:
This past weekend was awesome - went and saw Red Riding Hood with the hubby for date night on Friday which was really fun! Last night, we went with a friend to a favorite local brewery and I had 8oz of a fabulous brown ale and a pizza which rocked. Then I went with a friend to go see the Lipizzaner Stallions perform. I had seen them when I was a kid and it just brought back fabulous memories!
I have always been a fan of horses & horseback riding - so I am thrilled that I got to go see these amazing horses!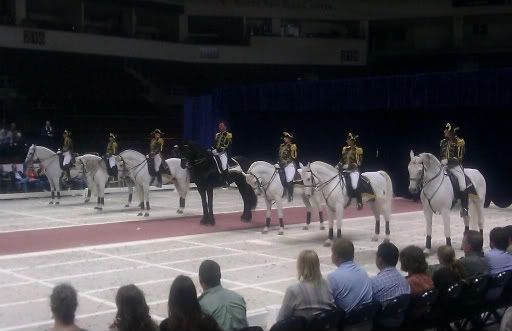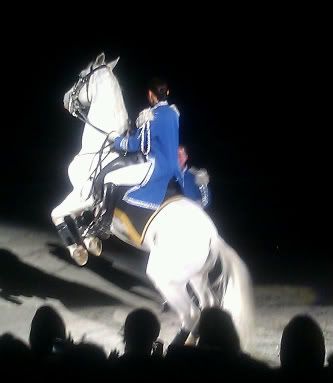 Though this horse wasn't a Lipizzaner, he was just incredible! This is my dream horse!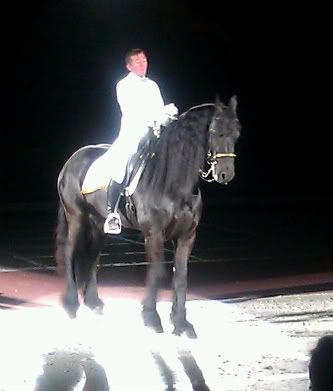 Today has started out terribly for nutrition - but I'm within my calorie count, and will stay there for the rest of the day. I'm currently going through a stress eating period and working to overcome it - might force myself to get a workout in later - that might help me feel better!
I am plotting my next challenge with a fellow SparkFriend - so hopefully those details should be up soon! I think I'll be renaming this blog and morphing it into my nutrition/workout blog for the rest of the year - just so that all the updates are all in one place!
Hope you all have a better Monday than I am!!! Things are uncertain, and I'm a control freak - I need stability....thank the gods my husband is helping me maintain my sanity! haha! Now I just need to NOT eat all the chocolate in the office!! I can do this! haha!