So yesterday was just one big hot mess of food. I didn't eat my normal volume of food for breakfast, which caused me to trigger and be hungry & munchy for the rest of the day. Also, the weather went from beautiful, warm & sunny to cold, wintery and nasty overnight. When this happens, my body likes to compensate by eating more (even though it has MORE than enough pudge for extra insulation this time of year!) - so I basically turn into a human hamster when it gets chilly - constantly munching all the time!
Normally, I would have had a workout to throw in to help make a decent deficit but Zumba class was canceled and I went shopping with my hubby & a friend instead. I got a decent amount of walking in, but nothing to help make a major deficit in my day. Got a way cute pair of new levi jeans which are awesome - my friend said they made my butt look awesome! haha! I'm just happy that they fit well, its really hard to find jeans that fit right, so I was really happy to find these ones!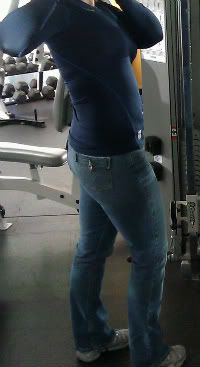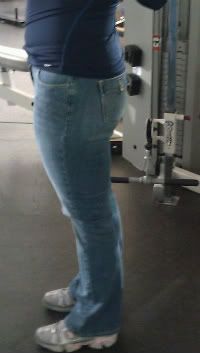 After we went shopping, we went for an awesome lunch at Genghis Grill - where I had a bowl of veggies, tofu & Udon Noodles - YUM!!! And only 450 calories for the whole bowl! I love it!
My nutrition was overall good up until this point. Once we got back to our side of town after shopping, we stopped in to say hi to my husband's grandma - here's where the downfall began. There's a ton of munchie food in the house and whenever we go there, we just start grazing. Though everything I ate was vegan, I think that I could have done without munching on the dry roasted lightly salted peanuts - all that added salt made me feel yucky.
After that, we headed back home where the munching continued. I ate an ice cream sandwich (130 cals), alternative bagel (110 cals), tomato pasta salad (180 cals) on top of everything that I had eaten already. I plugged everything into Spark and I came to about 1750-1800 cals that I ate yesterday - overall not too bad, but not the best when I'm trying to cut weight. I definitely didn't eat over my maintenance (I burned over 2000 cals on my Bugg), but the salt on the peanuts didn't help so I feel fabulously bloated today.
I also stayed up way too late last night and didn't get my normal amount of sleep - which isn't helping me feel any better either. The hubby and I watched the Oscars and now we have a TON of new movies we want to see, especially "127 hours" and "The King's Speech" - they both look amazing! We've already seen Black Swan and were thrilled when Natalie Portman won! She was so cute! Once I am done reading "I am Number Four" (which is awesome BTW) I want to read "Between a Rock & a Hard Place" which is what "127 hours" is based on - I googled it last night and it looks like an amazing story!
However, I am reigning in my diet today and staying on track. I am planning on getting at least a 1 mile run on the treadmill in during my breaks today at work - even though I forgot my digital display at home (so sad!)
So anyways, I am drinking lots of caffeine to stay awake & hopefully will be back on track with my weight loss within a day or two. Hoping the weekend was great for you all! I'm already looking forward to Friday! haha!