So Day 13 is now complete and I am halfway through all this craziness! Yesterday, I had my Zumba class in the morning & kickboxing class in the afternoon - so I burned around 2700 calories by the end of the day (according to my Bugg). I am definitely happy with that!
However, I used all 2700 calories to my advantage when we went out to dinner at an ALL vegan restaurant in town for a friend's birthday! I didn't eat near that much food to cause a surplus of calories, but I was thankful for the 2 workouts to help keep things balanced. Since it was the first time in 2 weeks I've been able to order anything on the menu - I definitely indulged (and am up 3lbs of water weight today because of it!) But overall, it was so much fun! The owner of the restaurant truly loves what he's doing and the food was awesome! I took pictures of everything but dessert (I totally spaced it!) so you can see!
Remember - ALL this food is vegan, so anything that looks like meat or seafood or dairy really isn't! As an appetizer, I got a hot & sour seafood soup in a lemongrass broth:
My dinner was chicken pad thai with spring rolls & a salad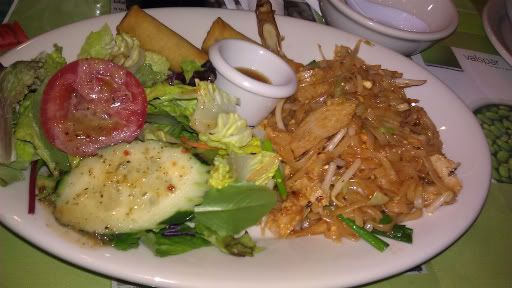 The hubby (who wasn't particularly thrilled about eating fake meat, but ate it anyways because he's so amazing) ordered a peppered steak sandwich with cheese
For dessert, we had Banana Chocolate Chip Spring Rolls drizzled in Dark Chocolate! It was divine! All the food was awesome and sometimes we had to remind ourselves that we weren't eating real meat! The hubby isn't too crazy about soy meat, but I really appreciate him coming with me!
I definitely think that this restaurant will be on my list of awesome places to go, even when I'm not vegan anymore!
So now begins Day 14, I am up 3 pounds from yesterday at 179.2, but its definitely nice to have my "high" & "bloated" weights be in the 170s instead of the 180s - that definitely means I've had some fat loss and not just water weight so far! haha! Today I have Zumba in the morning and then we are meeting a friend for lunch afterwards. After that, I think we are just going to relax before the crazy of the work week starts up again tomorrow morning (ugh! weekends need to be longer! haha!)
I can't wait to see what week 3 brings for me - maybe I'll get closer to the 160s?!?!? Who knows!! Have a great Sunday everyone!