So today (oddly) was the toughest day yet! No matter what they were supposed to be doing, my coworkers did nothing but talk about food....all day....and of course they didn't talk about healthy food either. Most of the time, I can tune this out and just do my own thing, but today was a little harder for some reason. Also, we had a meeting that happened to be right around lunch time, located in the meeting room right next to the cafe - so after hearing about food all morning, I got to smell all the unhealthy grubs being cooked right outside the door for an hour.
So today was rough - I was constantly reminded of all the food that I can't eat right now, and it wasn't easy - but I stayed on track! Woot! I ate all the food I packed and even though I had to resort to my emergency granola bars before the work day was over, I still came in right at 1300 calories for the day! Go me! For dinner, I made some fabulous brown rice with stir fry veggies (baby corn, peas, peppers, water chestnuts, broccoli, etc), bamboo shoots & Sriracha sauce - it was yummy!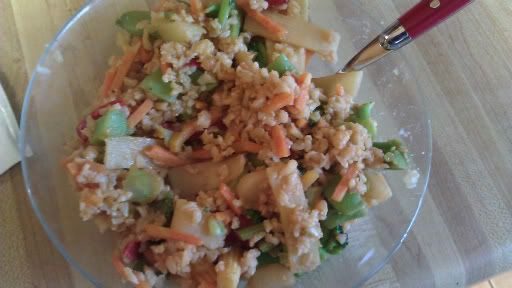 Zumba classes went great today! Ran one class with the old music and the other with the new music - it was nice to have a variety! Oddly enough, my abs were really sore after the workout today - it was a nice little reminder that my abdominal muscles *ARE* still there even if I can't see them yet! haha!
In other news, finished reading a book I started yesterday (yeah I kind of tore through it) called "Beastly" - it was a really unique twist on Beauty and the Beast and I'm intrigued about the movie coming out soon. Next on my reading list is "I am Number Four" - heard good things about it, so hopefully it will be good! This afternoon before class, the hubby and I caught up on "Being Human" and "Face Off" - which are both fabulous new shows on SyFy this year! Now we just need to find time to catch up on Supernatural and we'll be good! Maybe tomorrow afternoon we can watch those ones...
Also, a friend of mine is celebrating her birthday at an ALL VEGAN restaurant on Saturday night!!! OMG - just the idea of being able to order ANYTHING on a menu just sounds incredible!!! So because I might indulge a little bit, I will do my weigh in on Saturday morning instead of Sunday morning. I don't want any excess water weight causing my weigh in to be messed up - so my 2 week weigh in will come in just a few days! Hope it goes well!
Anyways, I think that's enough for me for today. I am SO happy tomorrow is Friday! It always seems that 4 day work weeks are longer than the normal 5 day ones! haha!
In honor of the fabulous "Beastly" book I finished - Here's the song of the day!
Avenged Sevenfold - Beast And The Harlot
Uploaded by WBRNewMedia. - See the latest featured music videos.