Hey everyone! So Day 9 went great - ended the day around 1300 cals and had a fabulous Zumba class at Curves! Debuted a whole new selection of music and my ladies loved it!!! In the middle of my second class, the neighbor next door (at an eyeglass store) called to complain about the music! It was too loud!! Somehow, I really don't see this as a bad thing - it was after 6pm at night, and my ladies were having a blast - so I am really kind of proud of my noise complaint! haha!
Before class - the hubby and I spent almost an hour at the MVD Express since his license expired, which was a nightmare as always, but at least its done now.
Food was great today! I woke up to a nice 180.2 pounds this morning and hopefully will be even lighter tomorrow!
OH and as promised - here's a pic of my new Zumba shoes! They are Reebok Zigs and they are AMAZING!! They are uber comfy and totally supportive - plus, I love the color of the shoes!!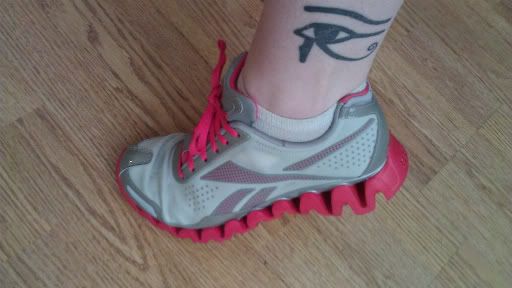 That's about it for me! Have a great night everyone! Time for sleep before my 5am shift tomorrow!