OMG today was just a crazy day! I had planned on eating well, working my regular shift, going home and running then the hubby and I were going to go see "Cowboys and Aliens" for date night as I didn't have a class today. OY - NONE of that happened this afternoon!
Right before the work day ended, the hubby called me saying that my in-laws had been in a motorcycle accident on the highway! They were okay, but the bike wasn't drive-able, so they needed us to come and help them. Since I was closer, I bolted from work, bought some bottles of water at a gas station (because it was 104 in the heat of the afternoon and they were standing in the sun) and found them. A woman in a Subaru hadn't been checking her blind spot when she changed lanes and hit the bike - thankfully, Dad managed to keep the bike from tipping, but it still caused a lot of damage to both the Subaru and the Honda!
See: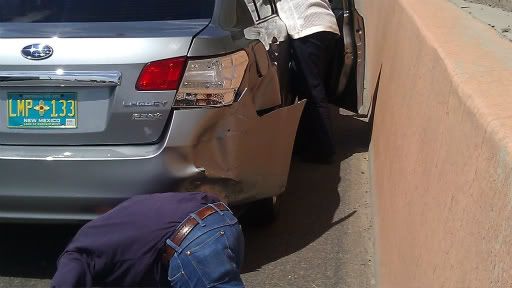 After getting a police report filed & getting all the official stuff done, we got on the phone with the insurance company. They informed Mom that even though they have full coverage on the motorcycle, it doesn't cover towing (WTF?!?!?!) So we were stranded on the side of a highway with a 700+lb motorcycle that isn't drive-able in 104 degree heat. No bueno.
After thinking on it for a few minutes, I came up with the idea to rent a U-Haul to get the bike off the road and off to the mechanic. So the hubby, a friend of ours who had come to help and I hopped in my car and took off to the closest U-Haul. The guy had ONE truck left!! OMG!!! So we rented the truck, drove back to the highway, loaded the Goldwing into the back, strapped it in and drove it to the closest Honda dealership for appraisal of the damages. We are worried that the bike might be totalled - but we'll just have to wait and see!
So - once all that was done, we returned the U-Haul (which only cost us $60 - which was totally cheaper than trying to get a tow truck to come out there). We all went out to eat after that at Buca Di Beppo which was yummy, but definitely not within my calorie counts for the day - but after everything that had happened, calorie counts were the last thing on my mind!
During dinner, I mentioned to everyone that I wanted to start riding road bikes and eventually ride in a race. Dad then casually mentioned that HE used to do biathalons & triathalons (which is a fact that I NEVER knew about him!) and that he has his old triathalon bike still in his garage! It has been in there for years and he said if I wanted his road bike I could have it! OMG!! This bike is amazing! It needs a tune up, but this is a $2,000 racing bike that only weighs 30 pounds! OH - and its RED! haha!! It needs a tune up, but other than that its completely ready to go!! I can't wait to get out on the roads! Its going to be amazing! I'd love to get to the point where I can ride my bike to and from Curves for Zumba (which is about 14 miles one way).
LOOK - its so pretty!!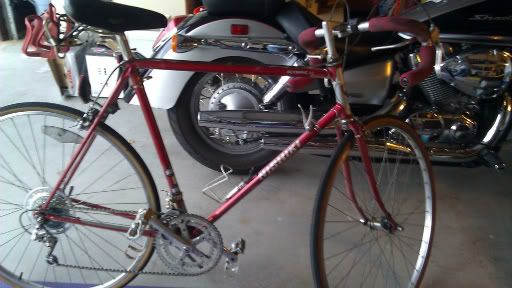 I feel so lucky that I have family that truly supports everything that I want to do! Its just an amazing feeling! I need to buy a bike rack for my car in order to transport it - but that shouldn't be too expensive. I can't wait to get out on the roads!!
WHEW - so after the crazy day with the motorcycle, eating dinner with the family and getting my new bike home - I didn't get home until almost 8pm (and I got out of the day job at 230!). So needless to say - the run isn't going to happen today. Maybe tomorrow, but I have Zumba - so my next run might have to wait until Friday. I really am not upset about this. My family is safe and that's ultimately what always matters. My workout can take a backseat for a day and to help out those that I love.
When I got home, my kitten knew that something was wrong as well - she came home, snuggled and held my hand to help me feel better! It was super cute :-D
Now, unfortunately - its time for bed and I don't have time for anything else. Tomorrow I'll look into the cost of a bike tune-up and hopefully I can get the bike up and running soon! I'm excited for all the excited fitness adventures that await me in the next few weeks! Woot!