I'm gonna be sore tomorrow! Haha!! Today was the first day of the Kettlebell challenge that I was able to push myself to full numbers - and OMG this is going to kick my ass! haha! After the 225 that I did yesterday, I had CrAzY DOMS in my lower back and around my ribcage - I guess my back wasn't as strong as I thought it was! BUT it will be by the end of the month! haha!
Kettlebell swings totally thrash me - they're full body workouts for sure...my legs, butt, abs, back, shoulders, arms & every other body part are gonna be toasted after these 4 weeks and I'm lovin' every minute of it!!
OH before I get into my workouts - as promised, here's my new workout gear. I think its super cute and I love the colors in the top!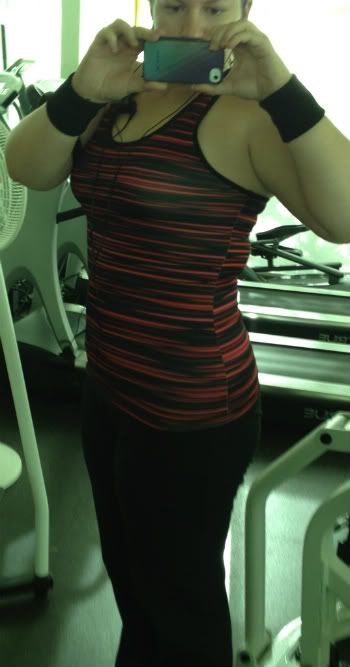 Okay - now back to the workout for the day. I did all my swings today in the same pattern as yesterday (doubles, singles both sides, no squat) for an even 100. I give myself minimal rest, enough time to write down my reps, before jumping into the next one - so its proving to be some good cardio too! I got the first 100 done on my first break at work, 300 done at lunch (this kicked my ass!) and my last 100 on my last break at work. After work, I've gotta go grocery shopping, but after that I shall be a lazy ass until my class tonight at 430 :-D
Kettlebell Swings Challenge
Double Arm Swings with Squats: 5 sets of 25 reps
Single Arm Swings (Right) with Squats: 5 sets of 25 reps
Single Arm Swings (Left) with Squats: 5 sets of 25 reps
No Squat Swings: 5 sets of 25 reps (by rep 15 of these my arms are screaming!)
Total Workout Time Today: 42 Mins
Total Calories Burned: 290 Calories
Total Swings: 500 Swings!!
And just for funsies - I snapped this pic at the end of my 300 swing lunchtime fun! I felt like a badass! haha! I'm lovin' the shoulder definition!!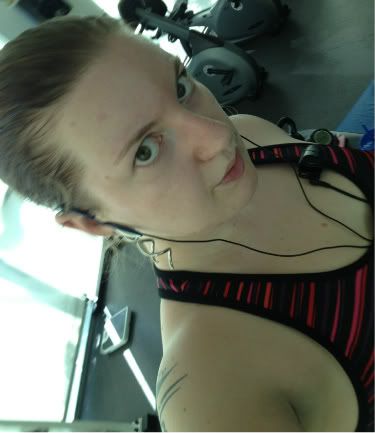 The "10,000 Kettlebell Swing Challenge" Total Count: 725 Swings
Total Time Spent Whoopin' My Bum into Shape: 59 mins
Total Calories Burned Kickin' My Ass: 420 Calories