As I talked about in my food journal...its been one of *those* weeks. I woke up with a f*ck it all mood today and its not really going away. Nutrition is within calories today - but definitely not as healthy as I could be. I haven't been sleeping well this week (which probably adds to the F*ck it mentality) - and so I haven't been running while I've been at work for the past 2 days (at least I haven't ran today yet - not sure if I will or not). Zumba classes are going well. I'm getting good burns & having fun with them.
Yesterday, I got myself some new shoes for Zumba designed for dancers that are AMAZING! I danced with them on the rubber floors last night and for the first time ever, my joints didn't hurt after class!! They have SO much support - its crazy!!! My feet felt really awesome in them! I am SOLD! AND they were cheaper than my Zigs!! Woot - plus, who can deny the awesomeness of the red, black & silver design??? I also got 2 new fitness/dancing sports bras for a killer deal that are super cute! Hopefully I can get pics of those soon!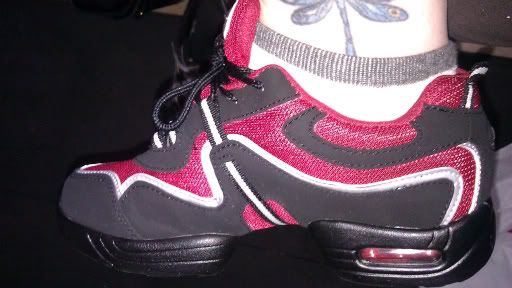 So - as I stated earlier, I'm being lazy today...no running has happened yet (and it probably won't today - I really think my body needs the rest) - so instead of running on my break today, I hid in the gym and snapped some pics. Its been a while since I've taken any, so I figured I was overdue. I'm happy because I'm seeing some changes, but I feel pudgy right now. I'm having a crappy day and I let stress eating control me (sort of - read the food blog for more details)
So - here's my boredom in pics - with whatever random caption I felt like adding...
I am starting to see some oblique shadows! Not too shabby for a "pudgy" day under flourescent lighting
My hair is getting longer....yay! And it looks "styled" when I haven't really done anything to it - kudos for great haircuts!
Its rainy outside...I'm glad I wore a hoodie today!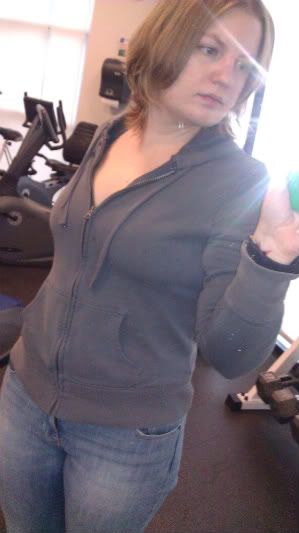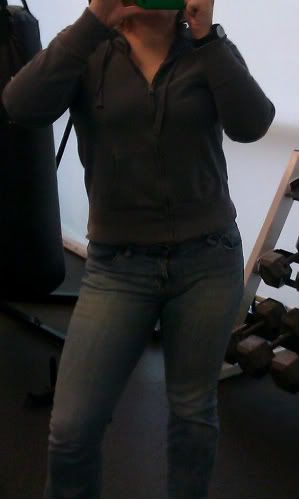 I am bored....is it Friday yet???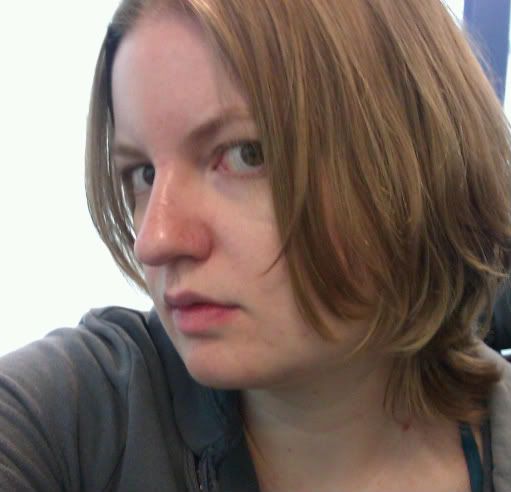 I think that's it - I'm just trying to survive this week....hopefully I can make it!!