Okay - so its about time for a general update from me....after my "oh crap" nutrition moment last week, things are going well. I've been eating more and have more energy which is awesome.
This past weekend was kinda full of junky food though. Drove to Arizona to pick up the kiddo for Spring break. Even though it was only 1 night, it was awesome for the hubby and I to get out of town and spend some time together. On the drive out there Friday night, he and I talked for the WHOLE 5 hours about everything & nothing in general - literally, no music, no nothing - just us talking & enjoying each others company. Sometimes with our busy lives, getting a road trip together is the best opportunity to talk.
We talked about finances (planning on being debt free - with the exception of the house & truck - by the end of the year) We talked about what we'd do once we didn't have monthly expenses like car payments & credit cards - we'd travel, he'd go back to school and not have to take out loans, we'd finally start making improvements to the house, we'd be able to live the life we've been working so hard for over the past 5 years.
We talked about our future & maybe adding a kiddo into the mix eventually - but not yet. We both think it isn't right to have a child without having financial security first - we think that anyone who has a kid without being having a stable household is incredibly selfish - plus we want to travel a little bit before we do that. We talked about health and our long term well-being - how we want to change our lives so we can be around longer for each other, and our kiddos in the future.
Road trips rock for amazing conversation! That night when we got to Arizona, we checked into our hotel and went out to dinner. We picked this little organic/fresh produce pizza place that was amazing!! Here's a pic of my pizza:
Whole wheat crust, pesto, goat cheese, pine nuts, shrimp & scallops!!! Incredible!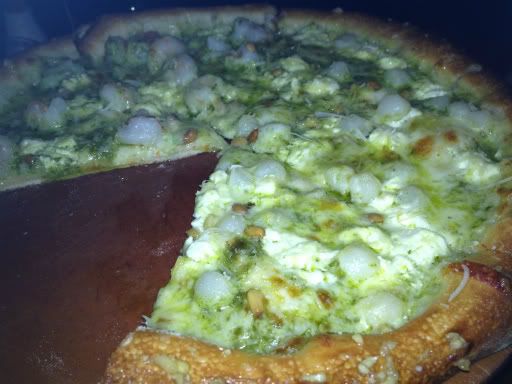 The next morning we bummed around town - went to Barnes & Noble (I found a fabulous Boba Fett Bobblehead for $9), a killer little store called Bookmans (Tom found me some Vampire Hunter D figures for $8), wandered around Hastings (I found a book I've been looking for for MONTHS!) and killed time at Target where we got some legos. Then we grabbed food with the kiddo and hit the road.
On the drive back, we started noticing my loyal IPOD of 7+ years was starting to lag. Its been freezing during my classes (so I've been using my nano for a few weeks) but on the trip it was really starting to freak out. We came to the conclusion that, even though we could put the money towards bills - I need a working IPOD for my classes, so once we got back into town we went straight to the Apple Store. I picked out a new black 160g IPOD Classic and I LOVE it!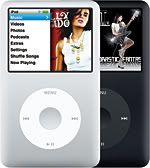 After the Apple Store, we went to dinner at Elephant Bar. I wasn't super hungry - so I got some noodle soup and a salmon roll. It was super yummy! We didn't get home until after 10, so I passed out right away. The next morning, I got all the music & movies off my old IPOD and transferred them all to my new IPOD (which surprisingly took a LONG time to do....it was almost 50g worth of content!). Then the boys went and picked up breakfast and we started cleaning the house. We had friends come over to celebrate her birthday - so we made BBQ Chicken, Ribs & homemade Mac & Cheese...so yummy!
We had a weekend of less than stellar food, so I am feeling a little pudgy today, but at least I know that I didn't eat at a huge deficit either - so that will be good for my metabolism. The squish will fall off after a few days of eating better & downing water like crazy. This week I'll be eating healthier - but higher calories to justify my activity levels and stepping up my running training for the Warrior Dash. Its only 7 weeks away and I want to get myself as ready as I can for it.
I think that's about it for me - hope all is well with everyone!