Hey everyone! I hope you're having a great week so far! I've been enjoying reading all your posts and can't wait to get started on my new lifting program.
My ROM is coming back to my knee, so I'm happy about that. I'm thinking that I'll start with bodyweight squats next week and see how they go. I'd really like to start New Rules sometime soon & if I have to modify the squats and lunges for BW to reduce my risk of reinjury, I'll probably have to do that for a few weeks. This knee has had me out of commission for about a month now, and I really don't want to hurt it even more
Anyways - I've been getting to the gym consistently which is good & not having to modify as much - which shows the knee is improving. Yesterday the A/C went out so we had a Bikram Boxing class - I was a sweaty mess when it was over! haha! Tomorrow is my birthday, so I'm looking forward to having a great day with my friends & family.
Here's my bodymedia burn for yesterday - I met most of my goals, so definitely happy with the way it turned out (deficit was a little high, but I had to make up for the Italian-food-carb-fest I had on Sunday as a pre-birthday dinner):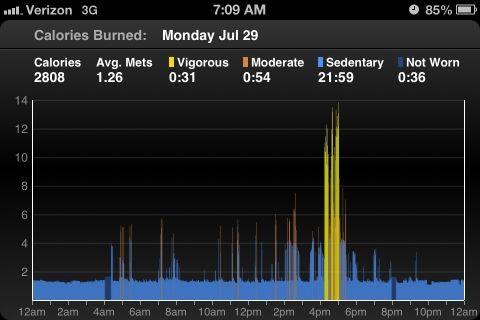 Anyways, since having a gimp knee - I'm getting damn good at one-legged burpees & pistol squats....they are pure evil!
In other news, I've got 2 final exams this week & 3 next week - so I'm thinking I'll make a goal to get progress pics and measurements taken the week after finals are over. There's just no way I can manage it before then. We are taking a mini-vaca in a few weeks, but thankfully our gym has a location nearby so we won't be missing any workouts while we're gone.
Anyways, hope you all have a great day!