Hey everyone! I hope things are going well for you all!

I'm doing well. This week began the end of the summer semester for me - so I had one final exam yesterday, 2 next week and 3 the week after that. Its gonna be a busy couple of weeks for me! I got an 87% on the exam I completed yesterday (for my psychology class) so I'm happy about that. Now I'm just focusing on getting ready for the other 5 finals I've gotta knock out in the next few weeks - I've got Biology & Lab, Chemistry & Lab and Nutrition all coming up
I got a kickboxing workout in on Monday at the gym and it went well. Still had to modify due to the knee injury, but I think I did a good job of it. Increased dumbbell weights from 10lb to 12.5lbs for rows, presses & flys (30-60 secs of constant work - which is why I'm keeping those weights a little lower) and was able to consistently do one-legged sit up/stand ups with pistol squats on my right leg for a minute - so I'm pleased.
Here's a screenshot of my BodyMedia burn for the day:
You can totally tell where my hour long workout was! haha! Anyways - I'd say that a 2600 cal burn for someone who works a desk job
with a bum knee really isn't bad at all!
Yesterday & today are usually rest days because I go straight from work that starts at 5am to school and I usually won't get home until after 6pm - but I think if my knee is feeling up to it today, I might try to hazard a small yoga workout just to get moving.
The knee has been feeling better recently & as of yesterday I was finally able to drive without much of an issue. I drive a standard (I love my car!) but it definitely makes things difficult when I've got a messed up left knee - so being able to drive without an issue is definitely a little victory!
Even though yesterday was a rest day, I do still try to stay moving consistently so my burn yesterday wasn't too bad either. 2230 cals burned on a rest day isn't too shabby at all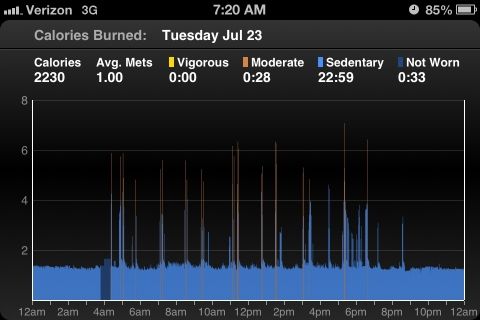 Anyways, that's about it for me! I am hoping that I only have about 1-2 more weeks of recuperation before I can start getting back into light workouts for my knee! I'm keeping my fingers crossed!
Once I'm back to full ROM on my knee, I'm going to start a new lifting program along with my cardio. I created a profile at www.lift.net to help track my progress & I've started a blog there as well. I'll be using that one to post videos of my lifting for form checks, etc so feel free to swing by there and follow that as well!



I hope you all have a great day!