So I am on Day 3 of the Great Unknown adventure - I've had a super busy weekend, and am just getting to update all this crazy stuff now. I took "before" pics on Saturday morning, measurements and weighed myself for the last time until December 31st! EEP! So - now that I have all my information - I wanted to get it posted here today so I have it for accountability!!
I bought myself a new journal on Friday afternoon to help me keep track of what I'm feeling and what I'm eating during the next 3 months! I love it!!!
So here's all my starting measurements & stats:
Starting Weight: 180.8lbs
Starting Body Fat Percentage: 26.64%
Measurements:
Neck: 13.5 inches
Shoulders: 39.5 inches
Bust: 38.5 inches
Chest (under bust): 34 inches
Waist: 33 inches
Belly Button: 34.5 inches
Lower Belly: 39 inches
Hips: 41 inches
Butt: 42.5 inches
Thighs (Upper/Mid): 25.5/23.5 inches
Calves: 16 inches (both legs)
Forearm: 11 inches (both legs)
Bicep: 12.5 right/12.25 left
Wrist: 6.75 inches (yeah - I'm kinda big boned! haha)
So here's my "Before" pics - I think I might take pics every 30 days - even if I don't weigh or measure...that way I can really see if progress is being made
Tummy Shot:
Left Arm: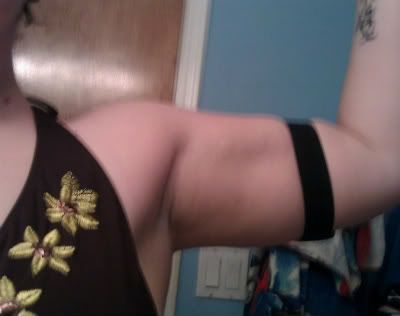 Right Arm:
Back: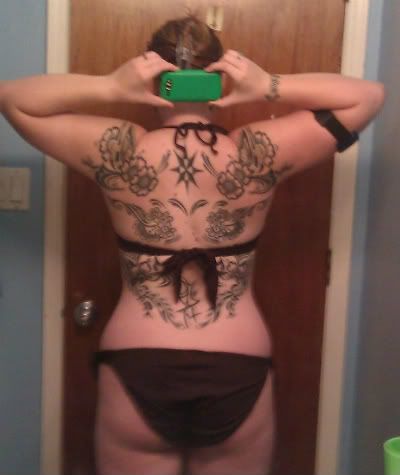 Left Side:
Right Side:
So overall - I'm actually happy with these pics. Granted, I'm a little fluffier than I have been in the past - but I know my body is strong and healthy. I have a hard time feeling upset when I am at a 26% body fat at 180lbs. I have amazing cardio abilities, I am strong and appreciative of everything my body is capable of doing. I can't wait to see what happens in the next few months!! Looking forward to it!!!
Also - because I thought it was a super cute outfit - here's what I wore to my Zumba class on Saturday morning! haha!